Our hotel is an ideal place for relaxing and resting, in the countryside of the Jilemnice City area.
Click on images to view full size
Accommodation pricelist (Cancellation conditions)
The City of Jilemnice opens the doors to the beauty of Northern Bohemia. Our hotel brings you numerous possibilities to relax and also enjoy sports and active rest.
Next to the hotel there is a city pool and sauna. The pool also has a special separate swimming pool for infants and little children. Courses in swimming for infants and childer take place every week.
On the other side of the hotel there is a sports center, including a soccer stadium, tennis courts, volleyball courts, bowling pins, and a gymnasium with a basketball court.
In front of the hotel you may wonder at a unique sculpture, the largest sumó-wrestler sculpture in the world. This piece of art is also registered with the Guiness Book of Records. Inside the hotel a real dohyĂł - a clay sumó arena, is to be found. You can watch sumó fighters practicing while relaxing comfortably in the restaurant.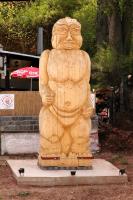 The restaurant, wine cellar, meeting room, and part of the hotel rooms, are fully air conditioned, making for a pleasant visit even in the hot summer months.
In our restaurant our Master Chef will offer you selected foods from Czech and international cuisine, including sumó-fighters specialties - don't miss the Fighters' Steak and the Victors' Steak.
In the summertime you are welcome to join us outside in our spacious terrace.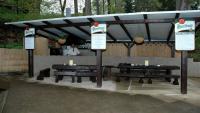 For special occassions, VIP groups, private festivities and quiet chat over a glass of wine or a drink we offer you our comfy wine-cellar, found under the restaurant.
Hotel guests can make use of our conference room with capacity of up to 40 persons. You are also invited to relax in the club room with a billiards table and darts.
Hotel guests can use three tanning beds, a stationary bicycle, treadmill, bigscreen TV, and free-of-charge internet wi-fi, including three common-use PCs.
Guest may also utilize a fitness lifting room and a small Ofurou rehabilitation pool.
We also offer our guests various medical and rehabilitaiton procedures.
All the rooms in the hotel are equipped with a refrigerator, satellite TV, radio, bathroom and shower.

four-bed room
.

three-bed room
.

three-bed room
.

two-bed room
.

two-bed room

bathroom
.